Anamoose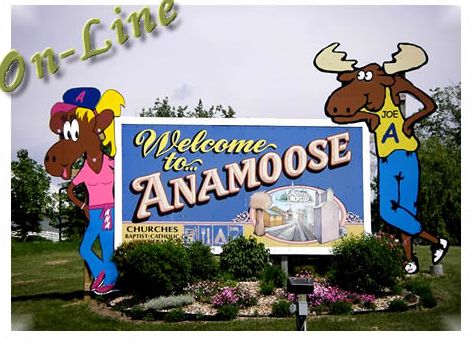 ---
Vendors wanted to sell baked goods, vegetables and crafts at the Anamoose in the Park.
Contact Bonnie Dockter at 701-465-3088 or email bonniedockter@yahoo.com
---
Anamoose is located in McHenry County, in central North Dakota
at the Intersection of Hwy 52 and Hwy 14 .

60 miles Southeast of Minot and 90 miles northeast of Bismarck

16 miles from Harvey - St. Aloisius Medical Facility , municipal airport, and grass greens golf course

6 miles from Sand Greens Golf Course in Drake
---
School
Anamoose has a public elementary school, serving students grades kindergarten through 6. Grades 7-12 travel 9-miles southeast to Drake. Visit the School Website for more information. www.anamoose-drake.k12.nd.us/
---
City Council
Mayor Mike Rudnick
Frank Ewert
---
Places of worship
United Community Baptist Church, 701-465-3081
St. Martin Lutheran Church, 701-465-3585
St. Francis Xavier Catholic Church, 701- 465-3780
---
A Bit of History
Following, is a bit of history taken from the Anamoose website, noted above. Click on the link,above, for more information about the town, recreation, businesses and events.
In 1893, the Soo Line Railroad Company was expanding their line and hired many people to help them lay steel and ties. Among these people were many Chippewa Indians who often noticed a dog that roamed the area. They spoke often of the dog in their native language and began referring to this area as "Anamoose". Although the pronunciation has changed some, the meaning remains the same. Anamoose means dog in Chippewa.
The train would pass here at 4:00 am and 12:00 noon. Anyone wanting to travel by train used a lantern to stop the train. The lantern was waved back and forth across the tracks until the engineer would toot the whistle to let the intended passenger know he had seen the signal and was stopping.
The only residence in 1893 was that of the Section Forman, William McNamara, and his family. They lived in the house that is now Billy Vetsch's, on the north side of the tracks. This house served as a home for the foreman and his family, the depot, and a Café. During the day, the dining room was used for meals for the railroad men and at night the tables were shoved aside and the men made beds on the floor with straw and blankets. From 1893-97 all there was of Anamoose was the Section House, a sidetrack and a stockyard. William McNamara and his wife had Anamoose's first baby in 1897. The years from 1897-99 were when the most settlers came to our community.
During the next few years many new businesses were built which included a General Mercantile and Hardware store, Post Office, Livery Stable, Depot, two Elevators and a Hotel. Later a Lumber Yard and a Harness Shop were built as well as an Implement Store.
In the year 1898, there was a large prairie fire West of Anamoose that burned for several hundred miles. A rancher living a mile west of town built a fire break 100 feet wide from the railroad track West of his house down to the water in the lake South of town. It saved most of the town, but burned some stores and houses in the community.
Over the next few years' three banks were built. The McHenry County Bank, Anamoose National Bank and the Farmers State Bank. The school was built and started between 1899-1900. The first Graduating Class was in 1911 with two students. Anamoose became a Class B school in 1911 after the Athletics Dept. was started. We were the Anamoose Royals until 1986. We went through a process over the next few years with our co-op schools to become the Raiders!
By 1915 Anamoose had a population 669 and was growing. At one time we had a Bowling Alley, a Drug Store, three Cafes, three Grocery Stores, a Theater, Photographer and Jeweler. We had two Doctors and a Veterinarian, Attorney, three Banks, two farm implement dealers, a Land Office and the Grand Opera House. There was also a Funeral Director, Four Gas Stations, and two Garages. There was a Shoe Repair and a Hardware Store, two Barber Shops, two Beauty Parlors, a Creamery and ever so much more. Over the years, we have seen many businesses close their doors, but to those of us who remain here, this is our town and we LOVE IT!
---
More information about the history of, or current events in Anamoose would be appreciated. If you'd like to submit a story or some information about the community, businesses or school, please send an e-mail to heraldpressonline@yahoo.com