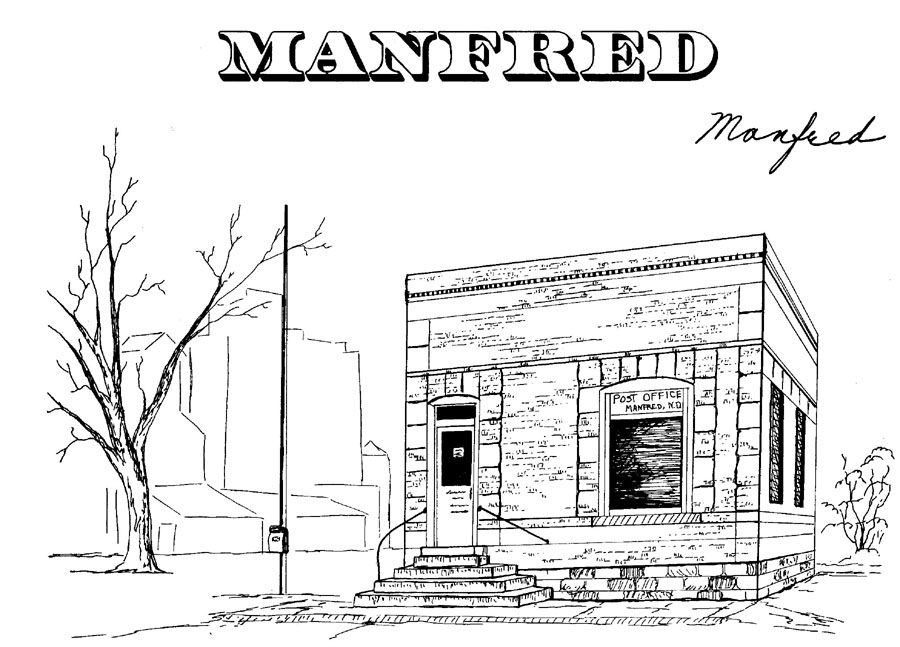 Located at the "James River Crossing of the Mouse River Trail," Manfred was platted in 1893 and the Post Office established May 3, 1894. First business was the Smith & Rogers Lumber Co., founded in 1893 with G.R. Nordtorp as manager. (by E.S. Killie, as printed in the May 27, 1976 edition of the Wells County Free Press)
Population 2011 – 6
Organizations
Vang Lutheran Church – services every other Sunday at 9 a.m. through Dec. 25. The church is closed from Christmas to early April. Services through the rest of 2011 will be November 13, 27 and December 11 and 25.
Manfred History & Preservation, Inc., is a non-profit volunteer organization that celebrates the legacy of rural America. Its mission is to compile and share the history of Manfred, North Dakota and its traditional trade area and to encourage community pride and restoration of its historic structures."
Manfred Heritage Museum is an educational entity of Manfred History and Preservation, Inc., and of the Manfred community. Its purpose is to provide present and future generations the opportunity to learn about the important contributions rural places such as Manfred have given to North Dakota and to America. The museum also holds archives of historic material and records. Educational facility housing displays and archives of historic materials, records.
Manfred Homemakers Club – Kathy Alveshere, President
Fagerlund Sons of Norway Lodge – Pamela Norstedt, President

The Naming of Manfred
History records that Manfred was named by the Soo line Railroad Company for a gloomy, solitary hero of Lord Byron's tragedy. Two accounts have come to light as possible sources for the naming.
1. Pam Nelson Norstedt related, "My aunt Ora Gladheim Thompson met a man that lived in her apartment complex in Spokane, Washington whose last name was Manfred. He said that he had always been told that one of his great grandfathers helped build the railway through Wells County during the time when Manfred was starting and that the town was named for him. He thought he could provide proof of this. Before Ora was able to look into this further, she became very ill and passed away."
2. Dianne Johnson Aull related, "When I lived in Manfred, I did janitorial work at the church for a few years. One day, a retired couple stopped by the church. They were traveling and wanted to see Manfred – the town named after her father. The woman went on to say that her grandfather was the foreman on the railroad crew that built Soo Line tracks across North Dakota. When they were working at the location where our town was to be, he received word that his wife had given birth to a son and had named him Manfred. Thus, he named this particular town Manfred, after his newborn son. His wife had named the infant after the Lord Byron poem "Manfred," which was popular at the time."
More information about the history of, or current events in Manfred would be appreciated. If you'd like to submit a story or some information about the community, businesses or school, please send an e-mail to heraldpressonline@yahoo.com