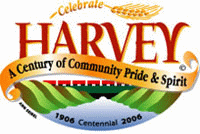 ---
About the City
Harvey is a community of about 1,600 people, located in northwestern Wells County. The small town community is home to more than 100 businesses and organizations. It has a progressive hospital, nursing home and two medical clinics. It offers a variety of tourism attractions, recreation opportunities, lodging and camping facilities. Located along the Sheyenne River, the community offers opportunities for fishing, swimming and hunting opportunties, as well as a public swimming pool, softball diamond, 9-hole golf course, and five city parks. More information about these amenities and more, can be found at www.harveynd.com.
---
A Bit of History
Harvey was selected by the Soo line as a freight division point, a dam was built there by the R.R in 1892 to assure a water supply. The town was platted in 1893 and the Post Office established Oct. 2, 1893. First store was opened in a large tent in April, 1893. First newspaper, the Harvey Advertiser, founded July 27, 1893. (by E.S. Killie, as printed in the May 27, 1976 edition of the Wells County Free Press)
---
City Council

Ron Volk – Mayor
Serves on the following committees – Board of Adjustments, Finance, JDA, Personnel, Police, Disaster Readiness, Harvey Building Development, CVB and Harvey Area Community Foundation
1513 Advent St.
Harvey, ND 58341
701-324-5239 home 701-324-2999 work
rvolk@gondtc.com
Bob Weninger- Council Member
Serves on Board of Adjustments, Planning & Zoning/Building and Grounds, Public Works
509 Adams Ave.
Harvey, ND 58341
Mike Waldoch - Council Member
Serves on Library Board and Police Committee
227 Brewster St E
Harvey, ND 58341
mswalson@min.midco.net
Milo Baltrusch – Council Member
Serves on JDA, Police Committee, Planning & Zoning/Buildings and Grounds, and Harvey Building Development
502 Garfield St
Harvey, ND 58341
Rick Eckart – Council Member
Serves on Airport Authority, Finance, Board of Adjustments, JDA, Personnel and Public Works
904 Alder Ave.
Harvey, ND 58341
701-324-0967
Donnie Hoepfer– Council Member
Serves on Rec Board,
543 Judy Blvd.
Harvey, ND 58341
701-324-2017
---
Places of worship:
Assembly of God 324-4985
Bethel Baptist Church 324-4261
Faith Lutheran Church 324-2275
First Lutheran Church 324-2548
Mennonite Brethren Church 324-2405
New Life on Main 324-4011
St. Cecilia Catholic Church 324-2144
Seventh Day Adventist Church 324-2344
Trinity Lutheran Parish 324-2483
United Methodist Church 324-2494
United Pentecostal Church 324-4232
Victory Baptist Church 324-4415
---
Schools
Harvey has a seperate high school and elementary school. For the 2011 - 2012 school year, the elementary school has an enrollment of 290 and the high school, grades 7-12, has an enrollment of 126. For more information about the schools, visit their website www.harvey.k12.nd.us
B.M. Hanson Elementary School 324-2265
Harvey High School 324-2267
Lone Tree Special Education Unit 324-4811
---
More information about the history of, or current events in Harvey would be appreciated. If you'd like to submit a story or some information about the community, businesses or school, please send an e-mail to heraldpressonline@yahoo.com