Chaseley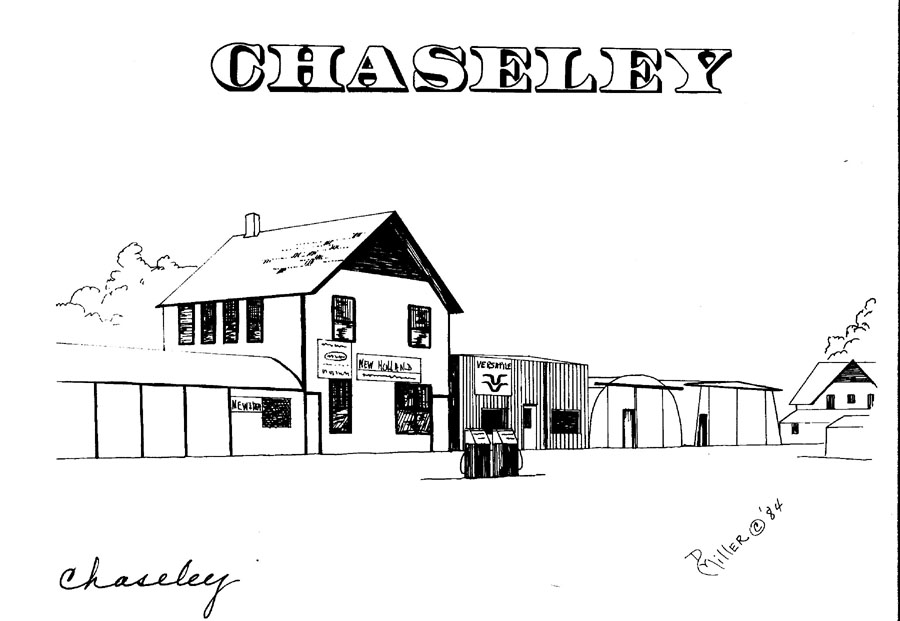 ---
A Bit of History
The town of Chaseley was platted in the spring of 1902 when this branch of the Northern Pacific Railway started building west from Bowdon. The first developments in town were a railroad side track, a stockyard with loading chute, and a platform so grain could be shoveled from wagon box to boxcar or vice versa. A boxcar was placed south of the track to be used as a depot.
In 1903 a grain elevator was constructed east of the depot. In late 1904 a general store was built. In 1905 a post office was established and located in the store. The main structure of the Evangelical Church was built, completion and dedication were in 1906.
In 1906 the Farmers' Co-op Grain Elevator was constructed, a lumberyard with a lumber shed and office and a blacksmith shop were also built east of Main Street. A hardware store and hote-restaurant were located west of Main Street. The weekly newspaper, "The Chaseley Star," was published by the McKinney brothers.
During 1910 several new residences were built and the Chaseley Co-operative Telephone Company was organized.
In 1912 a new depot replaced the old boxcar depot. H.B. Herron built a general store and a meat market was established near the north end of Main Street. Another general store was established and a pool hall and residence were also built.
In 1913 Shepherd and Kyser built a dance hall, where a 4th of July celebration was topped off with a big dance. In September of that year, a fire broke out in the Herron Store. The wind was strong from the south and the fire quickly was carried down the line of buildings. All were burned except the store at the north end of the line.
Many businesses rebuilt on the south edge of block 3. Other businesses started up, as well. The brick bank building was built about 1920. In 1922 a fire got started in the building just across from the bank building and swept swiftly down the line to the east, burning all those buildings, about five business places.
The Chaseley brick school house was built in 1918. From 1928 - 1942 the first and second years of high school were offered. In 1965 the school consolidated with Bowdon. ("Wells County 1884-1984 A Centennial Souvenir")
---
More information about the history of Chaseley would be appreciated. If you'd like to submit a story or some information about the community, businesses or school, please send an e-mail to heraldpressonline@yahoo.com